Anyone use the Energy suspension Bushing kits?
02-18-2005, 07:01 PM
0.0 BAR
Join Date: Apr 2004
Posts: 0
Re:Anyone use the Energy suspension Bushing kits?
---
Originally Posted by julio_bOOstamante
i would think it would work with the car on jack stands and it sitting for liek a good day or 2. Do it on a weekend and it should be ok . start friday night and borrow the girfriends car if you have to go somewhere
andif i were you i would use polyurithane( unless window stuffis poly ) then you should be OK. A heat gun helps curing time
Thanks for the info. I think what I'm gonna do is raise the car up, smear the goo, then lower it down and get my hand under there and re-smear it around so it dries at the correct angle. I'll just let it sit for 2-3 days. The tow is so bad because the bushings are so shot, I don't even enjoy driving it.
12-02-2010, 08:23 PM
0.0 BAR
Join Date: Nov 2010
Posts: 10
---
Originally Posted by
juli0_bustamante
I been thinking about using them only becuase my stock ones in the rear are ----.
Im wondering if they are all the same, civic/acura ones. I only ask cause the rear trailing arms are from a 92 GSR with ABS. However i dont think it should be different.
here is a pic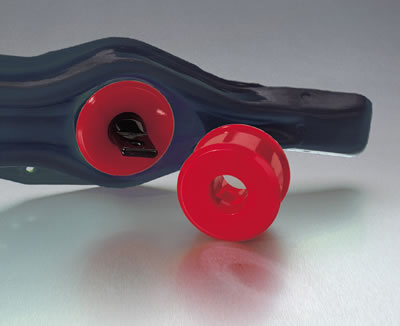 im thinking bout purchasing them from summit and i thinkg Jegs has em too. Ill see who has em cheaper.
DO any of you have em? how do you like em?
Is it a plastic
suspension bushing
? I am using an OEM part. Part #:18026759. I just bough it last week.
03-04-2012, 05:41 PM
0.0 BAR
Join Date: Mar 2012
Posts: 12
---
I have Energy Suspension poly bushings. I installed the rear trailing arm bushings in my 93 4door civic and used the 2 large washer and bolt trick. Id buy the energy suspension trailing arm bushings again, they work great. I have the master kit on my 93 4door, its a good quality kit and does tighten the ride up on an old civic like mine. Some bushings are little tricky to install unless you're creative witha hacksaw, torch and knife, or have a shop press. The rear trailing arm bushings where easy to install, Pass a long bolt through a large washer, and pass that through the bushing. pass the end of the bolt through the trailing arm, and through another large washer on the other side that is bigger than the hole trailing arm. put a nut on the end of the bolt and tighten it up. it pulls the bushing right into the trailing arm and thats it. now hammer in that hollow pin that you cut/burned out and make sure its oriented correctly b/c it only works one way as far as i remember.
Thread
Thread Starter
Forum
Replies
Last Post