New here with a turbo BMW e30
07-03-2012, 12:33 AM
0.0 BAR
Join Date: Aug 2010
Posts: 5
New here with a turbo BMW e30
---
I'm active on other parts of the internet, but not too active here. I'll give a brief overview of myself and my car. I'm currently 23 and am a programmer by trade. I've always had an interest in electronics with cars not far behind, so a fuel injected car is a pretty natural progression.
Me
I've owned a car since I was 16 and have been through a few. My first was a 1989 Caprice Brougham, nicknamed "the boat" and "the pimp car." It ended up making good friends with a tree, but that didn't stop it and I actually sold the still running and driving car for what I paid initially. Even back then, I had visions of forced induction. Since I didn't care about that car much, I was really considering strapping a leaf blower to just to see what would happen but I never did.
Here's that fine piece of automotive history
A year later I moved up to a '96 BMW 318i Convertible which is still in the family. At some point, I'll buy this car back and it will be the subject of another project thread! I beat on this car a bit, autocrossed it a couple times, and it never missed a beat.
I had the vert for a couple years, but after experiencing a bad wreck on the way home from college, I decided I wanted something safer. The 318 was also lacking in power and was an auto (which I didn't want when I made the move to that car either!), so I was determined to get exactly what I wanted this time around. Enter the '97 540i 6 speed.
The 540 is still my daily driver. It handles quite well for what it is, but the steering is a bit numb. Power wise it put down 260rwhp bone stock on low octane fuel. If I still have it in four years (emissions exempt in MD), it may see a low boost twin turbo build. Otherwise it's been a great car - reliable, comfortable, powerful, safe, and roomy.
At some point, I wound up with this beast since it murdered a rod bearing.
I was going to fix it, but continued to discover major problems apart from the engine, plus the engine was a nightmare to get to. I parted it and made a few bucks.
At all times, I need a project. When I don't have one, I make one... and that's bad news for stuff I need on a daily basis. So my 540 wound up with a very loud exhaust that sounded pretty sweet, but certain others didn't appreciate it so much
The e30 served as an outlet and the 540 went back to stock.
The e30 started life as a $400, non-running 1985 325e 5 speed. It had a few "special" neon blue modifications as well. When I went to look at the car, I started trouble shooting and noted the fuel pump was not running. I brought starting fluid along and successfully got it to cough to life. My ace was that early e30s actually have two fuel pumps and neither ran; I placed my bets that it was more likely for the problem to be a wiring fault rather than both pumps faulty. I was right - the afternoon it was delivered, I had it running and it even had a full tank of gas! My friend and I then started stripping the interior.
The car ran GREAT and delivered great mileage as well. I drove it everywhere and quickly racked up 3k miles inside a month. Then the boredom set in, so to fix that a few parts were ordered.
Like a stim & megasquirt 2. I moved the car over in stages, first I got a fuel only implementation up and running then I moved it to full standalone with wasted spark. This only lasted a few hundred miles before the next step came along.
This scary setup actually ran pretty well despite its looks. Initially, I ran 6 psi and put about 1200 miles on it, again driving it quite a lot. However, greed got the best of me and I cranked the boost to 10 lbs which ran REALLY well. It would break both tires loose through first and second, then start burning the clutch in the third. At this point, the car was significantly faster than my 540 which runs a 14 flat. All good things must come to an end and on the day after halloween, I lifted the head driving home. I initially planned to swap on a better head when this day was to come, but due to other events I came into possession of a newer, more powerful engine so it was decided that engine would reside in the e30.
This was the donor
And the reason WHY it was a donor
The motor was pulled
And an oil pan from a 5-series swapped on; the sump is in front instead of in back like on the 3-series it came from.
And then it was dropped into the e30, where the brake booster did not clear & I broke the shift linkage
At this point, I was out of time so the car was rolled out of the garage until later. It then sat for about a year while I gathered funds for a proper turbo build.
Shiny expensive parts then arrived
And the engine was pulled again to have the oil pan welded, shift linkage repaired, and for some general cleanup
The brake booster was fixed by adapting a smaller diameter booster from a Porsche 944
The engine was dropped back in
Where it couldn't be started because my new injectors were the wrong size
Fixed
Unfortunately, the problems didn't end there. The engine smoked badly from the valve cover and ran poorly. I bought a compression tester and three cylinders were down 100 psi. This engine ran perfectly and strongly before, so I suspect the rings rusted stuck from sitting. Oh well, can't dwell on the bad and it needs to be fixed, so I bought this.
Pulled that motor, parted the car, made $$$, pulled the motor from the e30, dropped the new motor in, and SUCCESS. Until the rear brake lines blew out. Ha. So I fixed those tonight and hopefully I can put some miles on the car again!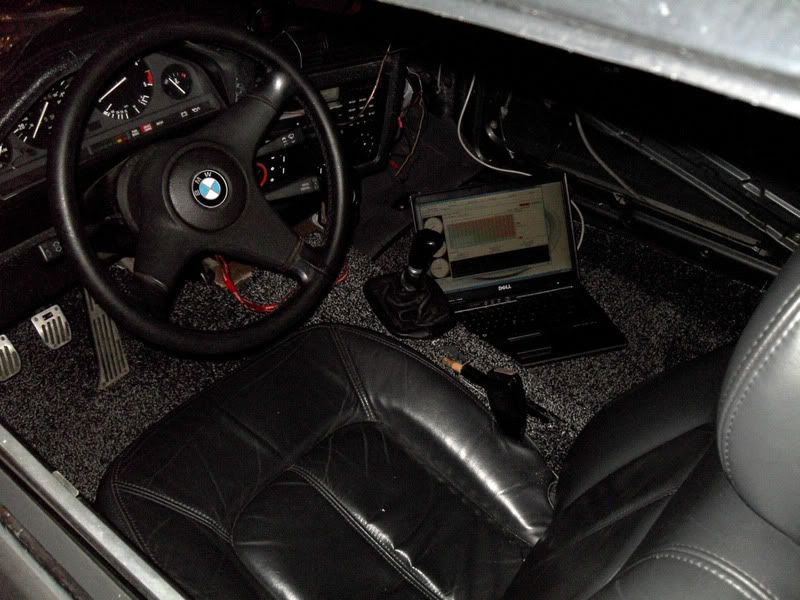 07-03-2012, 10:27 AM
0.0 BAR
Join Date: Aug 2010
Posts: 5
Thread
Thread Starter
Forum
Replies
Last Post