h23 honda prelude turbo projects
01-05-2010, 11:20 PM
0.0 BAR
Join Date: Jul 2009
Posts: 14
h23 honda prelude turbo projects
---
I have a 1992 honda prelude si that is turbocharged. i am in search of more power but i am on a budget so i have been completing projects as i have time here and there. here are some that i am currently working on. If you have any tips, suggestions or questions just let me know.
Catch can setup: The catch can replaces the battery and vents the valve cover to the atmosphere.
01-05-2010, 11:28 PM
0.0 BAR
Join Date: Jul 2009
Posts: 14
---
the next project that i am working on is a custom intake manifold. this will retain the stock throttle body. it has 1.61" I.D. 1.9" O.D. runners, a 3.6L plenum and 4.5" runners. The plemun is a little over 1.5 times the volume of my motor. the runners are half of the stock 9" length. here are some pics of what i have got done so far.
01-11-2010, 09:58 AM
0.0 BAR
Join Date: Jul 2009
Posts: 14
---
Fabrication update: I decided to step up my game a little bit. A friend of mine has a mill and a lathe at his house so I decided to take full advantage. I cut the plenum's final shape and it is test fitted and ready for the lid to be welded on. We machined bores in the plenum floor to a 1.872" size. You will notice that the tops of the runners also have a 1.872" register machined at the tops of them for a nice and tight press fit. The registers are exactly .233" long so the fit exactly flush with the floor of the plenum. They are also radiused so they are smooth flowing and require no inside cleanup.
We also machined a double barbed water neck to replace the stock one an to delete the two additional water ports for the iacv. They would be a pain in the *** to retain for relocating the iacv to below the new intake manifold because I want it hidden. It also does not get that cold in Florida. Finally I gave all components a light polish prior to final assembly. Now its time for pictures.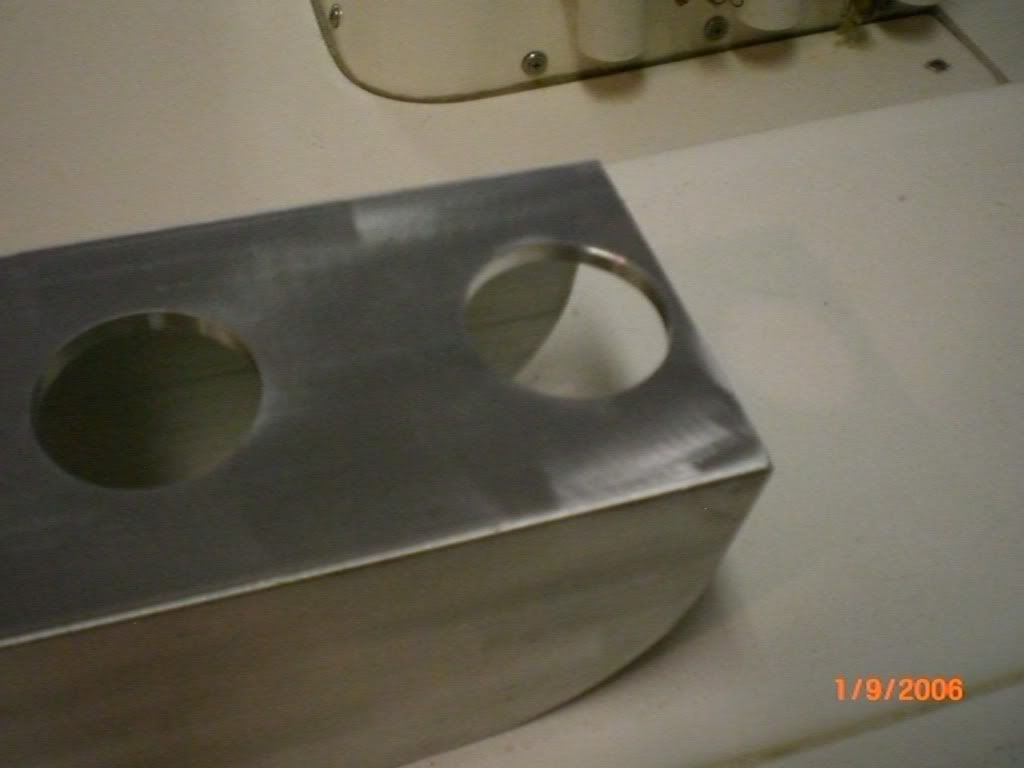 01-25-2010, 05:24 PM
0.0 BAR
Join Date: Jul 2009
Posts: 14
---
Oh that little guy. I would not worry about that little guy. That cast aluminum is kind of shitty to weld to. I should have hit it with a grinder before I tacked it into place. I guess the wire brush just was not enough.