VW Beetle Turbo
04-27-2010, 03:27 PM
0.0 BAR
Join Date: Apr 2010
Location: Stanwick UK
Posts: 16
VW Beetle Turbo
---
hi from the UK
i found this site whilst looking for info on Holset H1C turbos so here we go ive been working on thisat weekends since december got this from ebat for £200
brand new in the box never used so now ive got to make it fit a standard VW Bettle body, the engine is already a hi performace EFI engine 2332cc 205bhp
so here we start with the fabrification every part is made by myself in my garage at home.
making the exhaust manifold took 3 hours lol
charge cooler ebay again
inlet plenums
turbo lives here
turbo manifold
inlet manifold with the fuel and nos in injector
more to come
04-27-2010, 03:35 PM
0.0 BAR
Join Date: Apr 2010
Location: Stanwick UK
Posts: 16
---
engine stripped to lowere compression
back together
starting to come together now
charger cooler behind rear seat
EGT sensor
air filter was a pain to find a place but fitted here
charger cooler rad fitted here
engine up and running sound fails after a few seconds as it too loud lol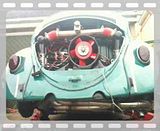 i had to fit a scavange pump as the turbo was passing oil
so make a braket and fitted here
so heres the car
i would like about 350 bhp but we will see what happens so finger crossed i can get the car into the 11s
thanks for looking
cheers andy
---
Last edited by FAST65; 04-27-2010 at

03:43 PM

.
04-28-2010, 05:00 PM
0.0 BAR
Join Date: Apr 2010
Location: Stanwick UK
Posts: 16
---
yeah the engine was too loud for the mic i will do another
a few little items manufactured tonight in the garage, first of all was how was i going to fill the engine with oil, solution make this from an old dizzy and a breather from a Hydraulic tank looks good me thinks
second was a mount for the tach and the boost gauge poped to B&Q and had a look through there metal stock and made this
last of all fitted the electronic boost controller into the dash
thanks for looking cheers andy
05-09-2010, 09:22 AM
0.0 BAR
Join Date: Apr 2010
Location: Stanwick UK
Posts: 16
---
cheers getting there now but still loads to do
thats the charge cooler header tank and pump i have also fitted a drain valve that goes through the boot floor so i can drain the ice water from it.
i have been thinking about the water injection tank i want to hide as much as i can so my thoughts are to cut the fuel tank in about a 1/4 of the way along and weld a bulkhead into it, weld it back up with a second filler neck for the water injection what do you think?
cheers andy
05-11-2010, 04:56 PM
0.0 BAR
Join Date: Apr 2010
Location: Stanwick UK
Posts: 16
---
cheers guys more vids coming, cant start the car at home the locals are compalining
bit more done
Right got home this afternoon and cut a hole on the tank (after eptying and washing out )
Welded in a bulk head, fitted a filler and also a leval switch
welded the the bottom on
doesnt look to bad :clap:
bit more work on the tank tmw clean all the old paint off bit of filling and paint and back in the car
another job done
thanks for looking
andy