Honda ECU on Toyota?
08-08-2009, 03:13 AM
0.0 BAR
Join Date: Nov 2005
Posts: 25
Honda ECU on Toyota?
---
so i might get flamed, but... a honda friend of mine suggested that i look into using a honda ecu... the thought was that i could easily burn eproms and tune it that way, where as toyota ecus arent as easy... im thinking in regards to a ae86, turbo set up... let me hear your thoughts?

fire away...
08-28-2009, 11:46 PM
0.5 BAR
Join Date: Apr 2003
Posts: 188
---
they're doing it on nissans now too.
i believe i was the second to install a honda ECU on a 3SGTE. dustin, from lacrosse was the first. we took slightly different approaches.
the throttle position sensors have different scales. the toyota sensor scale isn't as steep, so throttle deltas don't register as well with the honda ECU. doesn't do ---- at anything but coming off idle. there's a bit of on-off at very low throttle angles, but there are two ways to deal with it-
1. opamp circuit to add ~20% gain to the TPS output.
2. turn the TPS up so it reads ~.5v at idle. most of the nastyness goes away.
if it means anything, it's been over 2 years since i installed the honda ECU on my MR2 and it hasn't bothered me enough to build the opamp circuit to fix it properly.
now, all that said, the car is SO much more driveable than it ever was with the toyota ECU. throttle response is better, low end torque is better (i've tuned it for lean spool). it makes more power at 12psi than it ever did at 16 on the stock ECU.
It can be done.....it's a lot of work.
work is a relative term. my airflow meter died on a saturday afternoon. the car fired up on the honda ECU monday morning.
here are the pinouts for the 3SGTE to honda:
http://www.apexology.com/files/sche...TE_to_PGMFI.xls
the 4AGE will be slightly different, but a lot of the terms are interchangeable.
a few of the differences are:
FC = fuel control. honda calls this the "fuel pump relay" pin. toyota calls the fuel pump relay the "circuit opening relay."
Ne is the 24 tooth reluctor in the distributor. CKP-P is its equivalent.
CKP-M, CYP-M and TDC-M are connected to ground as soon as they enter the ECU, so it is possible to combine them at the distributor to simplify the wiring. i don't know about the 4AGE, but the 3SGTE has 4 connections at the distributor which is all you need if you combine the VR sensor grounds. my car is wired this way, and it has no issues with noise.
08-28-2009, 11:47 PM
0.5 BAR
Join Date: Apr 2003
Posts: 188
---
dizzy modifications: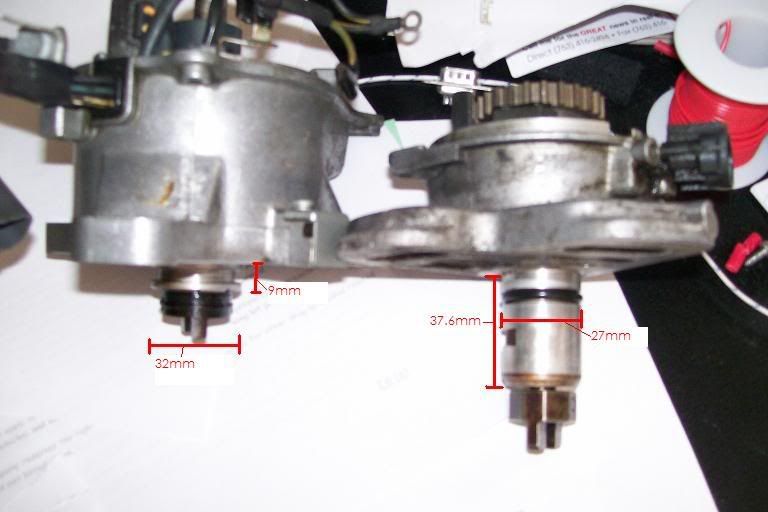 since the dizzy spins backwards, you need to line the CYP sensor up so that the signal occurs between TDCs of cylinders 3 and 4 for the reverse rotation. i forget off the top of my head how it changes, but i think it's like 180* out of phase or soemthing like that.
$4 GM oil vapor separator catch can from a quad 4: